Branch News
Contents
Please Note! All training events have been moved to a new home: Learn to Ring.
ONB Branch Striking Competition & AGM
Sat 12th Sept
Provisional Date!
Steventon (6)
3:00pm
Striking competition
5:00pm
Service
5:45pm
Tea
6:30pm
AGM
Young Ringers visit to the Clanfield area (15th April)
The next Young Ringers outing was planned for Wednesday 15th April in the Easter holidays. This has been cancelled due to the current global health crisis.
ONB Committee Meeting (Sunday 23rd February)
The meeting was held at 7.30pm on 23rd February, at Philip and Janette's house in Harwell.
Young Ringers visit Newbury Branch (19th February)
13:00 St Mary, Speen (tbc) (6, 12-2-12, RG14 1SA)
14:15 St Mary, Shaw (6, 7-01-12)
15:00 Refreshments & Ringing
Church Hall, St Nicolas Newbury (10, 1-2-21, RG14 7WH)
16:30 Event ends
Click for poster (pdf).
Below is Bobbi's report on the outing to Newbury for young ringers. Bobbi is 12 years old and rings at Steventon each Sunday. She has been attending practices at Harwell and Abingdon and is just beginning to learn plain hunt.
Our latest Young Ringers outing took place in and around Newbury on a chilly February day in half term. It was a really great day and I got to make lots of new friends who were all excellent ringers.
The most fun part of the day was getting to try the bells at three different church towers. We started at Speen, walked on to Shaw (in the wind and rain!) and finished at St Nicholas' in Newbury town centre.
St Nicholas had really loud bells which apparently my brother could hear from the other side of the town!
Trying out at different towers gave me a bit more confidence when facing new bells. It was a really great day and I am looking forward to future outings.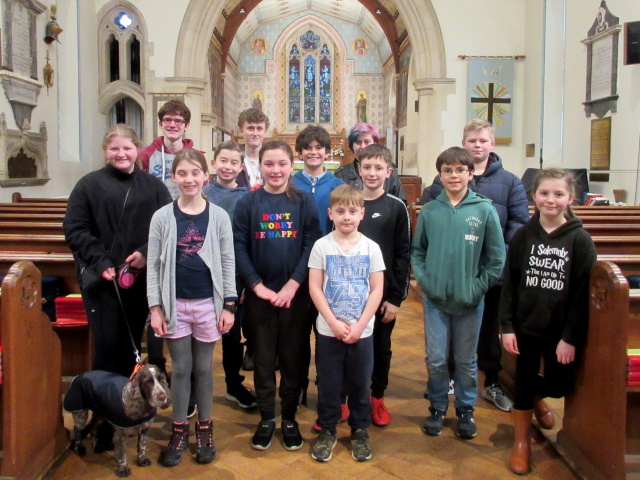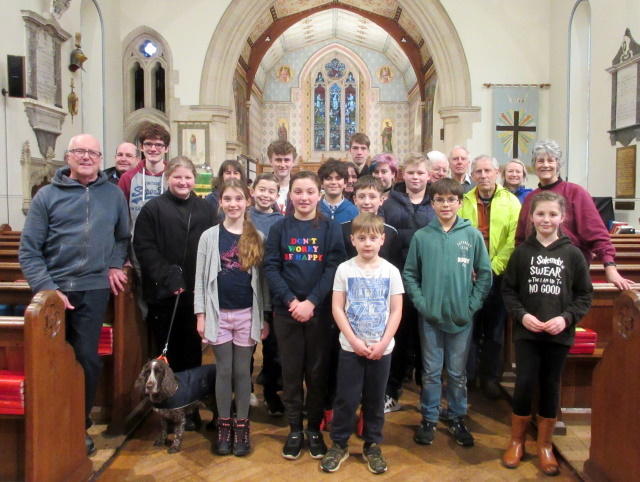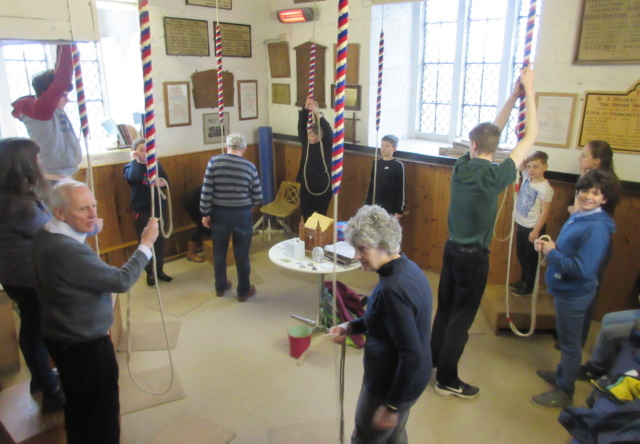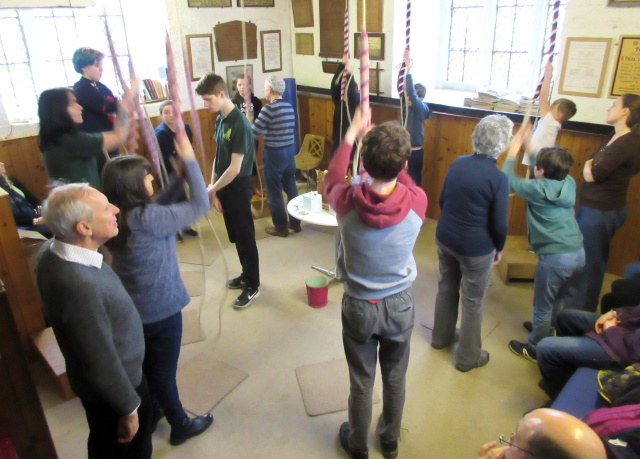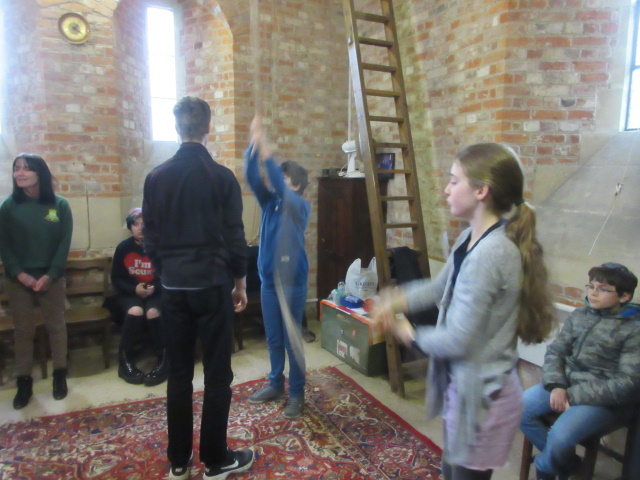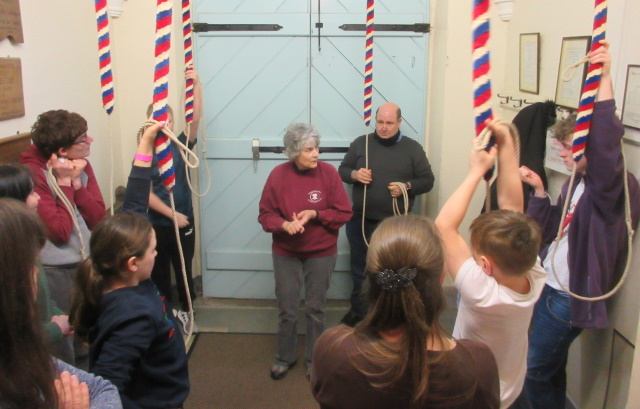 Thanks are due to Martin Rice, to Paul Lucas for the photos and to Michelle for the superb refreshments.
We did ask everyone beforehand for permission to publish photos on the ODG and branch websites and possibly in our newsletters. Please contact the Training Officer or the Webmaster if you would prefer us not to publish photos of your child.
Dedication of the new Blewbury Window (7th January)
The Dedication of the new stained glass window in Blewbury church by the Rt Revd Colin Fletcher OBE, Bishop of Dorchester will take place on Tuesday 7th January 2020 at 7.00 pm.
A peal by The Westminster Abbey Company will be rung on Blewbury bells during the afternoon (2.30 pm start). All branch members will be welcome to come to this celebration evening and to admire the stunning new art dedicated to bells and bellringing.
Young Ringers visit Horspath (2nd January)
14:00 Horspath, St Giles (6) 5-2-27 (OX33 1RL)
15:00 Refreshments, party games, carols on handbells
Horspath Hub, The Green, Horspath OX33 1RP
16:30 Event ends
Click for poster (pdf).
For the Christmas school holiday outing we visited a light six, Horspath, just outside Oxford. And seventeen school-aged ringers came! They represented seven branches of the ODG, mostly fairly local but some coming from as far as Bloxham, Tilehurst, Faringdon and Clanfield. They were aged between ten and eighteen years old.
Almost all the ringing was just by the young ringers, with lots of rounds and call changes, but also some Grandsire, Plain Bob, Stedman and Kent.
The young ringers said how much they liked the Christmas Cribs displayed in the church, (and the mince pies left over from Christmas Day).
And to recognise the season we had a party in the nearby Horspath Hub! We started with some party food kindly provided by Daphne, then played party games and rang carols on handbells. It was good to see the young ringers enjoying each others' company.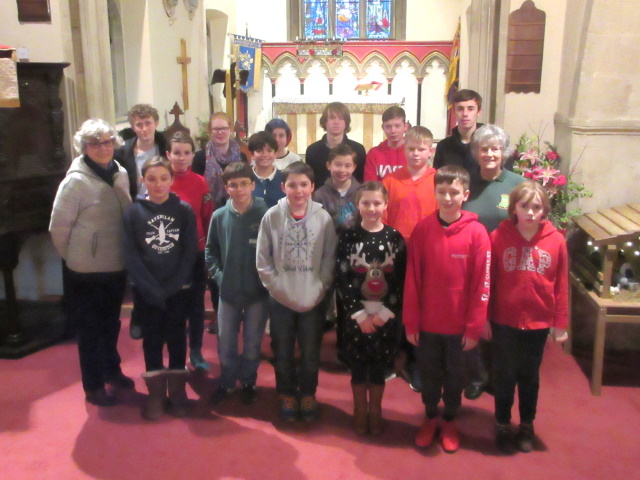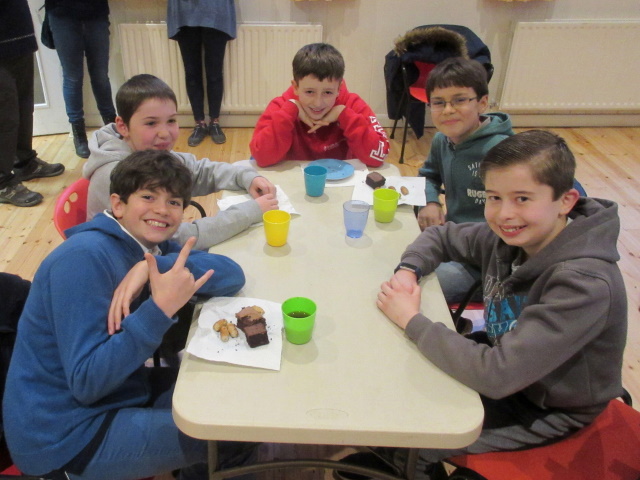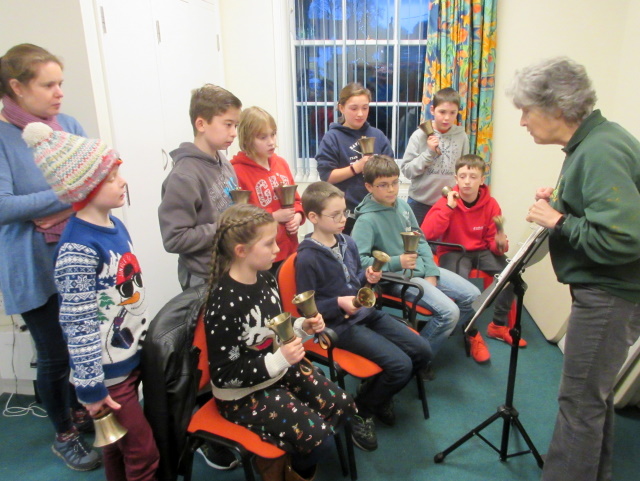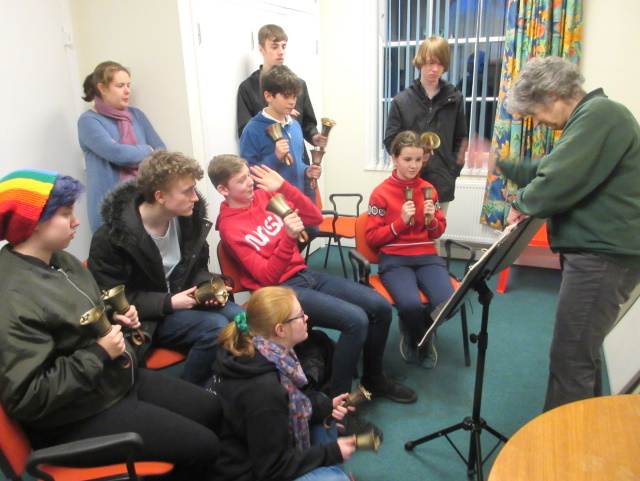 Please contact the Training Officer or the Webmaster if you would prefer us not to publish photos of your child.
New Year Ringing & Refreshments
Wantage are hosting the Old North Berks Branch New Year Ringing & Refreshments on Wednesday, 1st January 2020, from 10:30AM to 12:30PM.
Please see the attached poster for more details.