Training News 2023
Contents
This page lists training courses available to branch members, either run by branch members or by our parent Guild.
ODG Ten Bell Course – Shrivenham (Sat 4th Nov)
A One Day Course organised by the Guild Learning & Development Workgroup covering Grandsire Caters.
Charge of £22.50 to cover tower donation, break-time refreshments & buffet lunch. Applications close 22nd October.
ODG Steeple Aston Ringing Course (Sat 28th Oct)
A one-day Guild course providing tuition and practical experience ringing Plain Bob and Grandsire.
See the event poster for more information and how to apply. Closing date for applications: Sunday 17th September.
ODG Steeple Aston Ropes Course (Sat 28th Oct)
The course will be at Steeple Aston Village Hall from 1100 - 1530 while the students on the Steeple Aston ringing course are out at the towers. It will cover all aspects of rope wear, rope management and correcting causes of rope wear as well as splicing ropes.
It is open to all ODG members, not just Steeple Keepers and Tower Captains! See the event poster for more information and how to apply.
Please note that the Towers and Belfries Committee exists to offer help & advice to towers. Only recently did we discover a tower that was struggling with maintenance but completely unaware!
The following link takes you to our page on the ODG website: Towers and Belfries Sub-Committee - Oxford Diocesan Guild of Church Bell Ringers (odg.org.uk).
ODG Michaelmas Course (10AM, Sat 30th Sept)
This course is designed to provide opportunities for students to learn and practise more advanced methods than those offered on the Radley and Steeple Aston courses.
The day will start with a tutorial at the first tower followed by a practical session and further ringing, usually at two other nearby towers.
See the event poster for more information and how to apply. Closing date for applications: 30th August 2023
Learn to teach Bell Handling course (Sat 23rd Sept)
The Oxon Ringing School has organised a course to teach experienced ringers to teach bell handling on September 23rd in Abingdon. We have an expert tutor coming, Clare McArdle from Birmingham. Please encourage those who you think, with training, might become a good teacher of ringing to book on the course.
The Oxon Ringing School is a good place for our learners to get some extra tuition. It is also somewhere where those who attend the teaching course can gain experience of teaching learners in a safe, supervised way.
For more information, check the event poster (above) or the website: https://odg.org.uk/info/oxfordshire-ringing-school/.
ODG Tower & Belfry Course (10AM, Sat 29th April)
More information is available on the Event poster (pdf). Topics covered include:
Inspection and maintenance
Working safely in a tower
Rope management - identifying wear points
Guide frames
Improving the ringing circle
Sound control
Improving bells – clapper alignment, odd-struckness
Organised by the ODG Towers & Belfries Committee, the course is based at Speen (Newbury).
Radley 1-Day Course (Sat 9th April)
Methods offered (subject to demand and capacity):
Plain bob doubles, Grandsire doubles, Plain bob minor
Plain bob triples, Grandsire triples, Plain bob major
These courses have been running for a number of years and are designed for learners of all ages and levels of competence. If you are unsure which group to apply for, the application form gives details of the requirements for each group. We aim to improve your confidence as well as your ringing, with friendly support and tuition.
Please do not hesitate to contact Lindsay Powell if you have any queries and to request an application form (check the poster for contact details).
Congratulations to Elizabeth on achieving LTR3!
Elizabeth (14) attends an after school ringing practice once a week in Abingdon. She has earned her Learning The Ropes Level 3 certificate for which she had to ring two quarter peals, one covering to a doubles method and the other ringing the treble to plain bob doubles.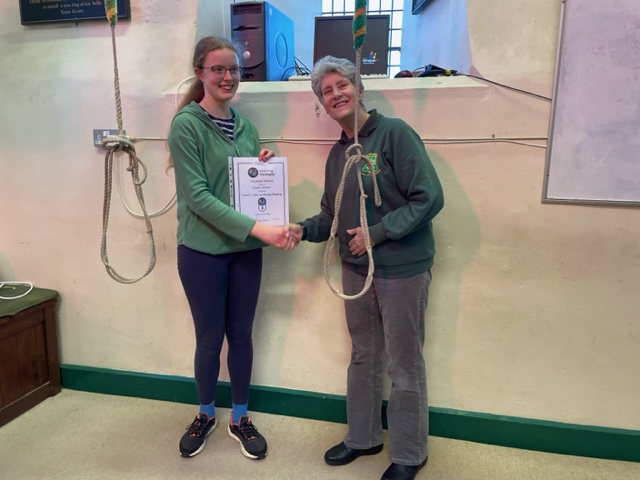 ART Module 2F: Teaching from Rounds to Plain Hunt (Sat 18th March)
Abingdon is hosting a Module 2F course on Saturday 18 March.
This full day course is for Tower Captains or anyone running a practice for ringers who can already handle a bell and are progressing towards plain hunt. You will learn through a mixture of practical and theory sessions about:
Foundation skills – fine bell control, listening, rhythm and ropesight
Lots of fun exercises to develop these skills
Coaching skills and building a successful band
Introducing Plain Hunt and covering
In some ways this stage of learning is the hardest part of learning to ring; the excitement and rapid progress associated with (semi)-mastering bell control has passed and time on the rope can be limited if the only practice is once a week with a mixed ability band. This is where this course helps. It introduces lots of fun exercises to help your ringer develop the foundation skills for method ringing. There is plenty for your ringer to practise and measure their progress against whilst stimulating (and sometimes testing) the rest of the band. For bands who don't aspire to method ringing it gives lots of ideas for Service or wedding ringing which sound good whilst keeping the band interested.
Please book a place by Friday 3rd March via the events.bellringing.org website (direct course link).
Rope Splicing, Maintenance and Management Course (Sat 11th February)
Organised by the ODG Towers & Belfries Committee
Radley Church Hall, 10 am to 3 pm. Cost £5
Check the poster for contact details.
Page last updated: 22nd October 2023.