Branch News
Contents
Please Note! All training events have been moved to a new home: Learn to Ring.
Quiz Night and Supper
Click for poster (pdf).
The ONB Quiz Night & Supper was held on Saturday, 9th November in Brightwell Village Hall, starting at 7:30PM.
All proceeds to branch bell restoration projects!
Young Ringer's outing to VoWH Branch (Wed 30th October)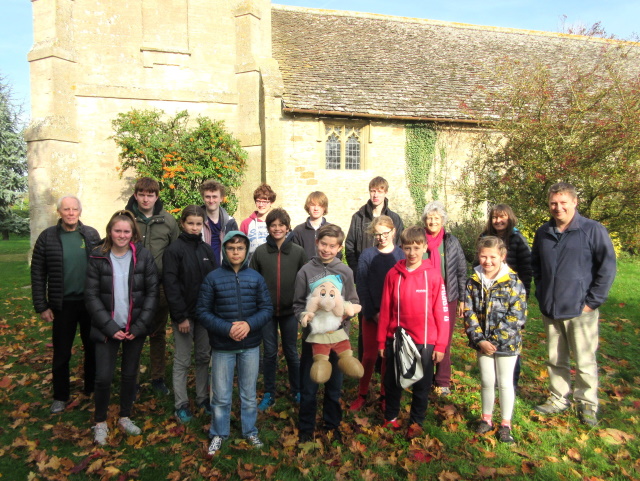 When we arrived at the first tower, a funeral was about to start. I am very grateful to the tower captains who had already arranged to swap over two of the towers so that our outing would not be too disrupted.
The outing was attended by thirteen young ringers from five branches of the ODG. Eight more mature ringers accompanied them, one of whom, Paul Lucas, kindly took lots of photos.
The following report was received from Simon Fuentes, a French national aged 12. I wish I could write as well as this in another language!
Report about bell ringing
On Wednesday the 30th of October 2019, all the young bell ringers went on a special trip in the Vale of the White Horse around Oxfordshire.
First we arrived at Longcot but we didn't have to climb any stairs as the bell ringing chamber was on the ground floor: no exercise in the early morning!
Our next destination was Faringdon. Unfortunately, the church had a tune mechanism with many cables on the roof and when the bell ropes touched them, it made an awful sound. Then, we had a ploughmans lunch cooked by the hard working of Daphne: thank you, Daphne!
Our afternoon was full of surprise with another church in Shrivenham; there was a hidden passage behind the eagle stand and the stairs were very cramped.
Our last stop on the trip but was supposed to be our first was Stanford in the Vale which was a cosy and roomy place to finish the day.
Thank you to Susan for organising that Autumn event.
ONB Committee Meeting (Sunday 6th October)
The minutes of the branch committee meeting are now available:
Young Ringer's outing to Old Marston (Tue 27th August)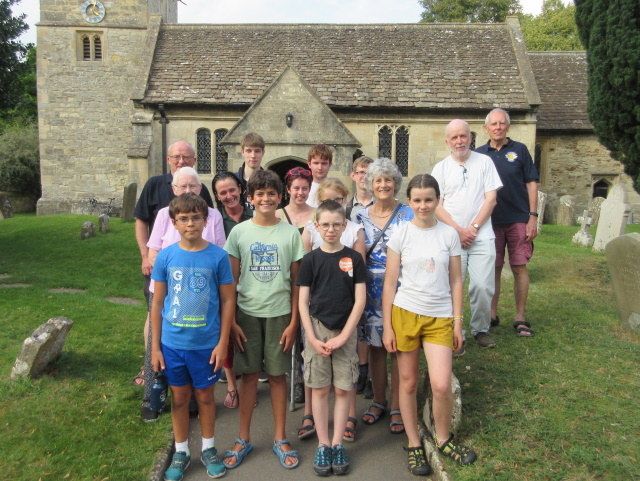 At relatively short notice I planned a day outing on 27th August. But the young ringers who said they could come were all at the younger end of the age range and not up to ringing at the towers I had booked. And some who wanted to come from Oxford had no transport. So two days before the planned outing I decided to postpone the day outing until half term. Happily Old Marston were able to welcome us instead, which was ideal.
Nine ringers under the age of 21 and eight older ringers came to Old Marston, travelling variously by bicycle, e-bike, bus and car. We were able to play some ringing games to challenge our setting, rope control and counting as well as to ring plain bob, stedman, grandsire and treble bob hunt.
We rounded off the afternoon with some of Daphne's lovely cakes, scones and peanut butter cookies. What's not to like!
Susan Read, Branch Training Officer.
August Younger Ringers Outing (7th August)
We've decided to try holding separate outings for our younger young ringers (up to about 13 years old).
We will hold a full day outing for the teenage ringers later in August, the details are still being finalised.
14:00 Berrick Salome (6, 7 cwt, OX10 6JP)
14:45 Drayton St Leonard (6, 6-0-13, OX10 7AY)
15:45 Shabbington, (6, 5-3-22, HP18 9HQ) Refreshments & ringing
16:30 Event ends
Outing Report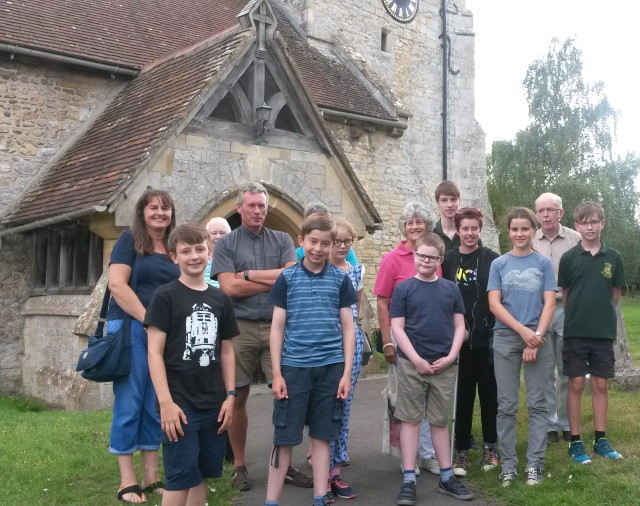 This time our outing wasn't interrupted by a single TV personality, unlike the previous two outings! On Wednesday 7th August we visited three quiet village churches with particularly light bells in the South Oxon Branch. We met with six younger ringers (9 – 14 years) from the Old North Berks, Oxford City and Vale of White Horse branches. There were also two teenage ringers, three parents and five older ringers.
Berrick Salome (6, 7 cwt) tower was built from wood and was somewhat small, but very attractive in the afternoon sunshine. We were surprised to find an art class taking place in the churchyard with about six elderly artists studiously drawing the church. We hope we didn't disturb their peace too much!
The second tower, Drayton St Leonard (6, 6cwt) had been rehung and retuned a few years ago. The bells had a glorious tone with a lovely hum. Despite their lighter weight, the tenors were not quite so easy for child ringers as the first tower but we rung some plain bob doubles with the help of some of the older ringers.
At the third tower, Shabbington (6, 6 cwt), Daphne brought out the cakes and drinks she had brought for everyone. She is renowned for her home made cakes and scones and everyone tucked in before we enjoyed another easy light six, ringing Stedman and plain bob as well as rounds and call changes.
The nine year old needed some help to ring in the right place, but the others all rang (and called) decent call changes. Five of them trebled to Bistow Doubles (something new for many of the adults). And two rang inside to doubles methods. It was a pleasure watching the young people ringing together and even managing to ring the tenors, something only one from a light tower had been able to do before.
Outings like this are hopefully helping our young ringers not only to enjoy ringing more, but to realise that there are others like them to meet and ring with.
ONB outing and BBQ (13th July).
Towers:
| | | | |
| --- | --- | --- | --- |
| 09.30-10.30 | Dunstable | Priory Church of St Peter 8 (23-2-15) T | LU5 4RS / OS TL021218 |
| 10.45-11.45 | Ivinghoe | St Mary the Virgin 6 (15-0-0) T | LU7 9EW / OS SP945161 |
| 12.00-13.20 | LUNCH | The Globe Inn, Linslade | LU7 2TA |
| 13.45-14.45 | Linslade | St Barnabus 8 (9-3-3) | LU7 2NR / OS SP912249 |
| 15:15–16:15 | Whitchurch | St John 6 (12-3-18) GF | HP22 4JY / OS SP802208 |
| 16:00-16:30 | TEA | St John Hall, Whitchurch | (next to church) |
| 16:45-17:45 | Quainton | Holy Cross and St Mary 8 (17-1-26) GF T | HP22 4AP / OS SP749201 |
Join in the fun after the Branch Outing on Saturday, 13th July from 7.00pm at the home of Stuart and Naomi Gibson:
The Croft, Milton Hill
(A4130 between A34 Didcot exit and Rowstock)
All proceeds to branch funds: £10.00 each (payable on the day).
Younger Ringers Outing (29th May).
13:45 Park at Pangbourne, walk to Whitchurch
14:00 St Mary, Whitchurch, ringing (6) 8-0-9 (RG8 7DF)
14:45 Pangbourne Meadow, games
15:30 Refreshments, ringing St James Less, Pangbourne (6) 10-0-0 (RG8 7AX)
16:30 Event ends
After our previous outing in which Channel 5 turned up to film us, this time we encountered filming for CBeebies!
Eight younger ringers (9 – 13 years) from the Old North Berks branch met in Pangbourne, just before 2 pm on Wednesday 29 May 2019, with five adults including one parent. It was a grey drizzly day, but there was a lot of excitement because for half the young ringers it was their first ringing outing.
We walked over the ancient toll bridge to Whitchurch. And yes, we had decided to walk over the bridge to save paying the toll! We were met by Ken, one of the ringers, who kindly took us round the outside of the church to the tower door. The spiral staircase was very narrow and wooden. In fact we found that the whole tower was built of wood and it moved considerably as the bells were rung!
After ringing some rounds and plain hunt with some of our younger ringers, to our surprise a man burst in from CBeebies! They were doing some filming by the river and were being interrupted by the ringing. So we agreed to finish a little early and decided to go and watch the filming.
As we retraced our steps over the bridge we could see some activity on the meadow by the river and some canoes in use. We were able to watch the real Mr Tumble being filmed in a boat – repeating a scene several times! But we were warned not to divulge the content of the scene and not to publish any photos we took on social media. Several of our young ringers confessed to watching CBeebies occasionally.
At Pangbourne church we explored the church and found a lovely monument to Sir John Davis carved from chalk showing three figures lying next to each other, one in armour. And a wonderful East window including tiny figures among the flowers in the design. We wondered if these were Victorian fairies!
Daphne's cakes, biscuits and scones were a definite hit with the young ringers, and we enjoyed playing Tri-ominoes, Four-in-a-Row and Rummikub before we tried the bells. Sadly most of the 10cwt ring were a little too heavy for our young ringers, but everyone got to ring rounds and call changes and some rang plain hunt before we returned home at 4.30 pm.
Oxford Diocesan Guild AGM (18th May)
The Guild AGM is on Saturday 18th May at Great Missenden, Bucks HP16 0BA. There will be open ringing at several local towers as well as a Songs of Praise service and the AGM itself.
Please see the event poster (pdf) for all the details!
Mini outing and lunch (24th April).
On 24th April there was a mini-outing with a pub lunch:
Warborough
Chalgrove
Dorchester Abbey
Young Ringers Fest in Oxford (13th April).
A Day of Ringing at many famous OXFORD Towers arranged specifically for the enjoyment of just young ringers.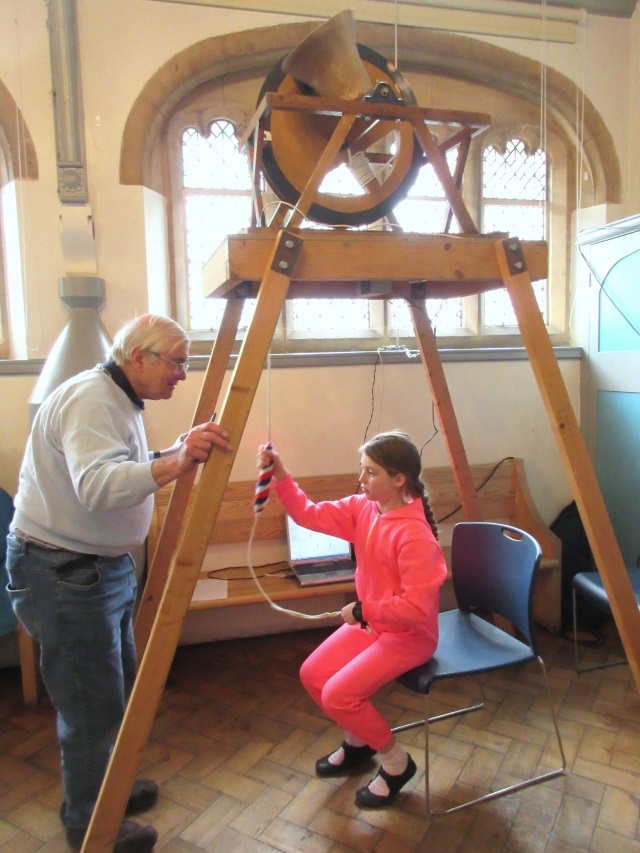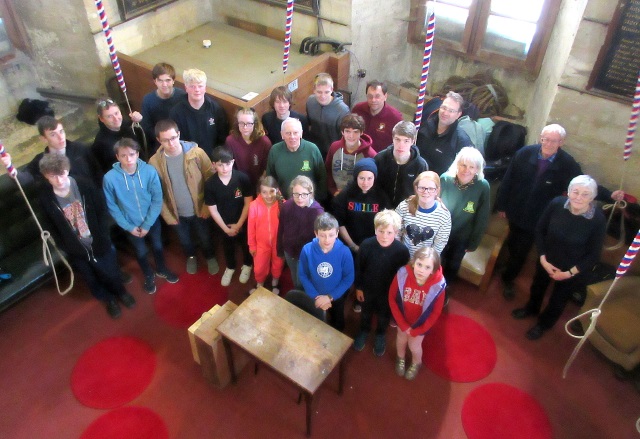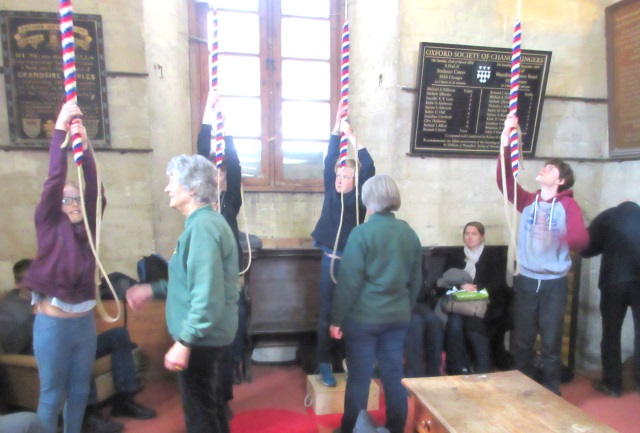 While the Old North Berks branch holds little outings for young ringers each school holiday, this time we decided to be more adventurous and organise a big day out especially for young ringers in the whole Guild. Visiting Oxford was an ideal choice.
Nineteen young ringers from around the ODG and around thirty parents including some ringers met in Oxford on the chilly but sunny morning, ready to ring at seven towers in central Oxford. Our first two towers were the light tens at St Thomas and St Mary Magdalen. Ringing was good, ranging from rounds to plain hunt on nine to surprise major.
St Giles, just up the road had a steep stair ending with a ladder into a very crowded ringing room. We rang plain bob and grandsire triples as well as rounds and call changes.
At lunch time we had a treat! We provided our own packed lunches, but the Parish Room had lots to entertain us – firstly Daphne's wonderful selection of cakes and scones and things to drink. Then an excellent book stall with ART books that many of us hadn't seen before. Also there was the chance to ring plain hunt on handbells with some experts. But perhaps best of all, Alan Griffin had brought along his dumbbell with a competition to ring it as the tenor behind to Grandsire Doubles and to get the best score for our striking! Ten of the young ringers had a go (some had two goes!)
There was a longer walk to the best bells of the day, Magdalen College where the gloomy ringing chamber is furnished with ancient leather covered sofas and some even older wooden pews. We were nervous that the worthy members of the Oxford Society who had arranged all the towers for us would not approve of the standard of our ringing. But they reassured us that we were fine and commented that they had heard much worse ringing from some of the other visiting bands who had come there!
Next there was the light eight at Lincoln College and the six at St Aldates where the prize giving was announced. Josh and Jamie won the handsome big Easter Eggs for their top scores on Alan's dumbbell. All those who completed the quiz sheet received a smaller Easter Egg, and these seemed to disappear really quickly!
The last tower was Carfax at the central cross roads of Oxford. Not all stayed to the end at 6.30 pm, but those who did enjoyed this fine, but challenging six.
Some of the comments on the day:
I would like to thank you for the experience of ringing at new towers with new people. I thoroughly enjoyed the day.
It improved my ringing and confidence about it.
Thank you very much for arranging the whole trip and I will be sure to come along to anything else planned in the future.
The new Volunteer & Leadership committee (V&LC) of the Central Council is keen to promote ringing for young people. The ODG offered to hold this Ringing Festival in Oxford as a test of the concept for the V&LC. We were pleased with how well it turned out and hope it encourages similar future ventures.
ONB Branch AGM
The ONB Branch 6-bell striking competition and AGM took place on Saturday 16th March at Sutton Courtenay (8).
The 6-bell striking competition, evensong service and tea preceded the meeting. Keith Osborne of Ashford, Kent and Bill Stungo judged the competition and gave the results. They said that they had heard some good ringing with very few method mistakes from the four teams that entered. The results were as follows:
| | | |
| --- | --- | --- |
| 1st | Abingdon B | 14 faults |
| 2nd | Wallingford | 25 faults |
| 3rd | Blewbury | 75 faults |
| 4th | Abingdon A | 81 faults |
The Abingdon ringers were invited to represent the Branch in the Guild 6-bell striking competition on Saturday, 5th October in the EBSB Branch.
History of Bellringing
Barrie Charles, a ringer from Cholsey, has written a very interesting book on the History of Bellringing through the ages and especially features Cholsey bells, ringers and the tower.
The book will be available at the AGM at Sutton Courtenay and afterwards from Jenny Jeskins.
ONB Committee Meeting (Sunday 24th February)
Each tower in the Branch is invited to send one of their members to represent them at this meeting.
Young Ringers' half term outing (20th February).
At half term we held another outing, ringing at St Mary (Thame) followed by cooking, refreshments & games in the Small Barn, Thame Barns Centre (OX9 3AJ).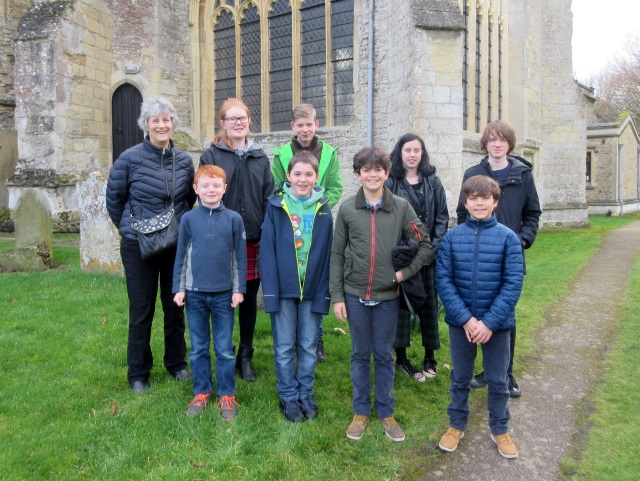 The outing was organised and we knew that eight young ringers were going to meet us at the church in Thame for some ringing and then to do some fun cooking with one of the mums. Then that morning the phone rang – Channel 5: Please could they come and film our young ringers that afternoon? We rang the tower correspondent who agreed to be there early to let the TV people in.
We had to phone each of the families and check no-one minded their child appearing on TV. Quite the reverse – all the parents were pleased! The young ringers were mostly thrilled, but one or two were a little uncertain about the prospect of being interviewed on TV.
Four of the young ringers were from the ONB branch, two from Oxford City and one each from Bicester and Reading branches.
We met at St Mary's Thame, quite a light ring of eight (11 cwt) with a large ringing chamber and lots of windows. It turned out there were only two TV people – an interviewer and a cameraman. He had already taken some good shots of the bells themselves with one being rung.
The interviewer wanted to speak to each of the young ringers whilst the others rang. We ended up ringing just rounds for most of the hour of ringing booked because we were all so interested to see what the TV people did. The most hilarious time was at the end when the interviewer was trying to speak to camera and summarise things whilst the young ringers rang round him. We must have put him off because he kept having to ask for a retake as he fluffed his words and we all giggled. In the end he gave up and added his final statement as a voiceover at the editing stage.
The two minute item was shown on the 5pm C5 news – before some of us even got home!
Click here to watch on YouTube
After such an unusual ringing session, we walked to the Thame Barns Centre where Sandra was ready to mastermind the production of several different dainty foods by the young ringers. We made bell shaped cheese scones, apple pie lollies and rocky road cakes.
Our branch has organised a young ringers' event for each of the school holidays since 2012. But being on TV was a first for us!
Young Ringer's Ring & Games (2nd January)
14:00 St James, Radley (6) 5-2-27 (OX14 2JN)
15:00 board games, refreshments, carols on handbells in the church room
16:30 Event ends
Click for poster (pdf).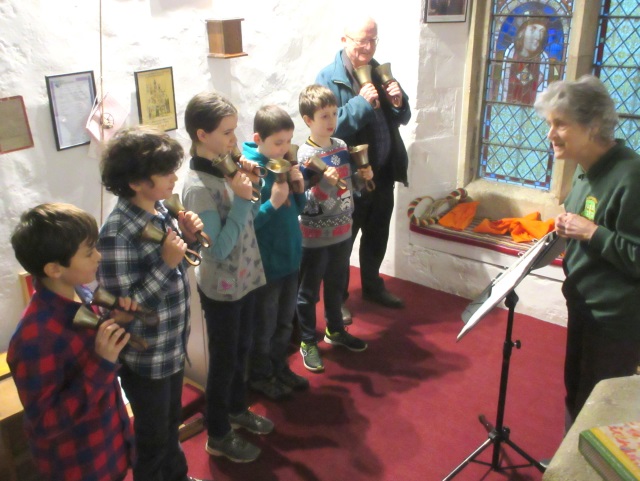 We try to fit in a young ringers' outing in every school holiday. It's always difficult to find a date in the Christmas holiday – too busy before Christmas, family's go away between Christmas and New Year and after New Year we are lucky if we can fit in one day before all the young ringers go back to school.
We met at Radley, just south of Oxford. It has a light ring of six bells, rung from a generously sized balcony at the west end of the church. We were glad to have thirteen ringers under the age of twenty plus six adult ringers and four parents, two of whom ring. It was quite crowded! The youngsters did most of the ringing, ranging from rounds to Bob Minor and Grandsire Doubles.
We split the young people into two groups. Half of them went to the Church Rooms next door where they enjoyed trying a variety of table top games including Jenga, Dominoes, Connect 4, Rummikub and card games. The other half rang carols on handbells. Then refreshments including Daphne's famous lemon drizzle cake and pizzas were served, before the two groups swapped activities for another half an hour. There was a lot of hilarity, with the construction of a miniature stone henge out of dominoes.
It was a good way to spend the last afternoon of the school holidays!
New Year Ringing & Refreshments
North Moreton are hosting the Old North Berks Branch New Year Ringing & Refreshments on Tuesday, 1st January 2019, from 10:30AM to 12:30PM.
Please see the attached poster for more details.